Normalia – After the Ball
2005. Audio installation, a public text and flag hoisting in public space.
The work introduces Lange's union, Normalia – a union between Norway and Somalia. Normalia is constituted by its own flag, and facts about the union can be found in an accompanying text. Here is also the story of the Afro-American jazz soloist Jack Butler, along with a summary of the asylum- and immigration policy in Norway, in a paragraph about Erna Solberg, the former Minister of Regional Development during the Bondevik II government. The text brings evidence to the numerous restrictions made in connection with the asylum- and immigration policy executed by the minister.
In this mounting of different historical and contemporary objects questions are raised about Norway's national identity at the hundred year's anniversary of Norway's independence and termination of the political union between Norway and Sweden in 1905.
The project was toured with the exhibition-project UNIZONE, produced by Norwegian and Swedish National Touring Exhibitions (Riksutstillinger) – visiting 17 sites on the Norwegian-Swedish border, the summer of 2005.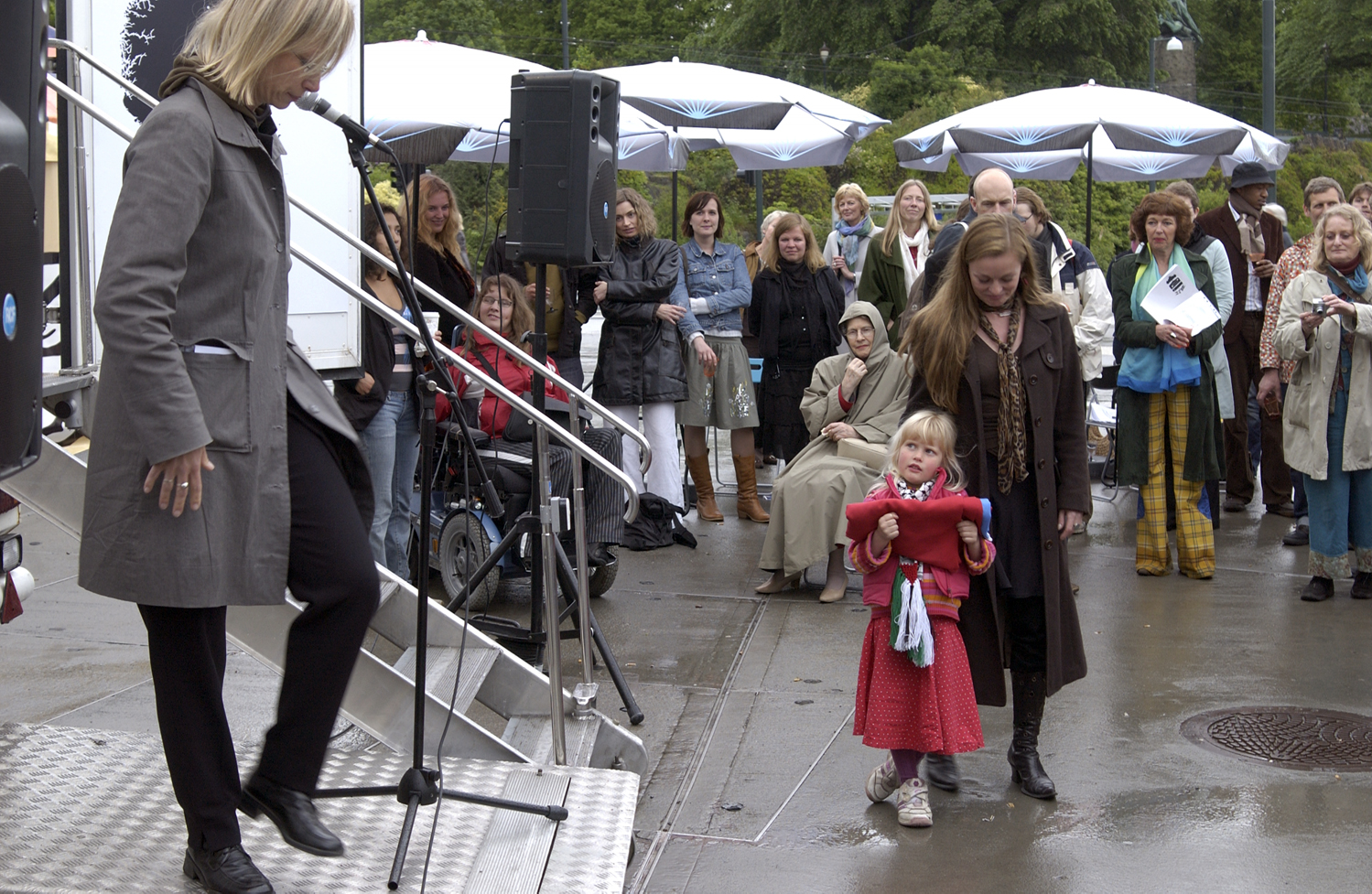 Inaguration
Normalia was inaugurated with an official flying of its flag outside the Department of Foreign Affairs in Oslo, 3. of June 2005. The ceremony was executed by the Swedish National Touring Exhibitions managing director Ann Folin, Andrea Lange, and her daughter Alva Lange.
The Tour
The Normalia flag was hoisted and lowered on existing flag staffs, according to official flag-flying rules, at all 17 stops on the exhibition tour. The tour was terminated in Stockholm, Sweden on 20. of August 2005.
The Normalia flag is designed with a basis deriving from the Norwegian and the Somalian flag, with the white Somalian star in the center. Number and sizes: 1 ex. 275 x 200 cm, 1 ex. 225 x 145 cm, 20 ex. 43 x 31,5 cm. Chemical print on polyester.
The Great Normalia Mix
Audio installation, 48 min
The Great Normalia Mix was presented as an outdoor audio installation on the exhibition site. The piece contains different auditory representations from Somalian culture and community life. In this scenario the African-American jazz musician, Jacques Butler, with the recording of After the Ball, is mixed in as a general theme. After the Ball was recorded in Oslo, Norway, February the 14th 1940, with Jacques Butler and his Swing Patrol (Butler, Normann, Engstrøm, Sønstevold, Lange-Nielsen & Bjørnstad).

Through sound processing, Jacques Butlers voice is separated form the orchestra and subtly mixed into the other material, partly in duet with Somali artists. The Somalian material consists of traditional music by legendary artists and younger artists living in exile. These are songs about love, nature, and family - about politics, war and life in exile.
Text

Published the in the weekly newspaper Morgenbladet's art project pages, August 2005, in the exhibition catalouge, and handed out on the exhibition sites.
Read text (In Norwegian)